Doxiadis, Apostolos; Papadimitriou, Christos H.; Papadatos, Alegos; DiDonna, Annie (2009)

Logicomix: An Epic Search for Truth.

New York: Bloomsbury.
This is an excellent story about the life of Bertrand Russell and his attempt to discover truth through mathematics, philosophy and physics.

Good explanations of geometry, paradox, infinity, and the difference between computation and higher math – with a fair amount of secrecy, scandal, madness and mystery mixed in. This is a real story that math and science are a part of -- not endless exposition disguised as a story. This one would be good for high school, especially physics classes.
Hosler, J. (2000). Clan Apis. Columbus, OH, Active Synapse.
This is a story of the life cycle of two bees. Perhaps that doesn't sound completely fascinating, but it is. Jay Hostler knows the world of bees well, and tells it in a way that is fascinating. Good stuff. Sixth grade and up could make sense of this.
Hosler, J. (2003). The Sandwalk Adventures. Columbus, OH, Active Synapse.
Excellent discussion of evolutionary theory -- featuring two mites that live in a hair follicle of Darwin's beard.

It's only problem is at times it seems to be ridiculing

subjective belief and non-scientific knowledge. Probably high school would be best for this one.
Ottaviani, J., Z. Cannon, et al. (2004). Bone Sharps, Cowboys, and ThunderLlizards: A Tale of Edward Drinker Cope, Othneil Charles Marsh and the Gilded Age of Paleontology. Ann Arbor, G.T. Labs.
It turns out that the first paleontologists led a pretty exciting life, involving stealing skeletons from each other, deliberately deceiving their rivals, and sometimes living a life that had more in common with Indiana Jones than a contemporary paleontologist. Good for high school and smart middle school students.
Ottaviani, J., J. Johnson, et al. (2001). Fallout: J. Robert Oppenheimer, Leo Szilard, and the Political Science of the Atomic Bomb. Ann Arbor, G.T. Labs (Publishing).
The story of how mathematicians and physicists got together and built the most powerful weapon ever known is endlessly fascinating. This book looks at the life of Oppenheimer, who tried to direct and corral the scientists and military advisers and somehow managed to move the project forward in spite of personality conflicts and conflicting ideologies. I already knew much of this story, but not the latter part of the book, which concerns Oppenheimer's trial under McCarthyism and his subsequent loss of a post with the Atomic Energy Commission because he had been part of a group with communist connections when he was a young student. A lot of good stuff in here about how scientists and the government interact. Good for high school.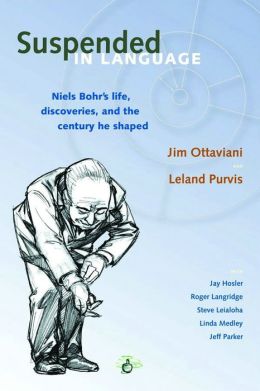 Ottaviani, J. and L. Purvis (2004). Suspended in language: Niels Bohr's life, discoveries, and the century he shaped. Ann Arbor, GT Labs.
Holy cow!

This is the best science GN I have yet encountered.

Perfect for a high school physics class.

Explains scientific theories and how they came to be in the context of Bohr's life.

This GN totally rocks!
Ottoviani, J. (1998). Dignifying Science: Stories about Women Scientists. Ann Arbor, MI, G.T. Labs.
Excellent -- biography and explanation of the significance of the contributions of women to science. This book has a variety of artists and styles.

Women covered include

Hedy Lamarr, Lise Mietner, Rosalind Franklin, Barbara McClintlock, Birute Galdikas, and others.