Graphic Novels for the Health/PE Classroom
When I took PE in middle school and high school, there was very little reading involved. I think it there had mean more I might have had a better attitude toward health and exercise. The books below might be helpful for a PE teacher interested in bringing more reading into her health/PE class. They also might make a huge difference for some studnets who really need them.
Katherine Arnoldi (1998) The Amazing True Story of a Teenage Single Mom, Hyperion.
Black and white.

Good story. This takes us through the lows of the main character's life (some of which are pretty scary) but then ends on a high note when she gets help and s able to attend college. The art is pretty bad, though.
Marchetto, Marisa Acocella (2006) Cancer Vixen, New York, Alfred Knopf.

Woman gets cancer, moves from a shallow life into a committed one. Some vulgar language here.

This one might be hard for teenagers (who consider themselves indestructible) to relate to.
Siegel, S. C. and M. Siegel (2006). To Dance: A Ballerina's Graphic Novel. New York, Aladdin.

This is a story that upper elementary girls might like.

The main character gets a chance to study with a famous dancer and choreographer.
Winick, J. (2000). Pedro and Me: Friendship, Loss, and What I Learned. New York, Henry Holt and Company.
Judd Winick develops a friendship with Pedro who has (and eventually dies of) AIDS while they are living in a communal house as part of MTVs Real World.

Dispels some myths of AIDS.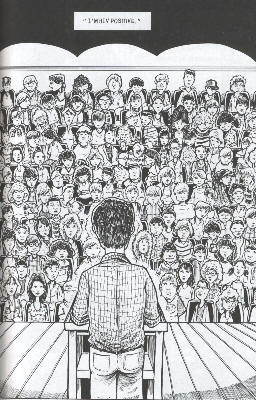 Robinson, Alex (2008) Robinson, Alex

Too Cool to be Forgotten

Marietta, GA: Top Shelf.

Middle-aged Andy goes to a hypnotist to quit smoking and ends up going back in time to when he was in high school.

One strong theme here is choices.

Language and frankness may be an issue if contemplating using this one in class.