Hello All,
What follows is my running list of graphic novels that would be appropriate for high school or middle school. It is an annotated list (though some annotations are more full than others) and some recommendations seem to focus on whether or not the GN has vulgarity, nudity, or other challengable material. This is not because I wish to ban those GNs or pass judgement on their worth based solely on their objectionable content, but rather because the purpose of this blog is to inform teachers about books that would work in their classroom. So if you want to read stuff with objectionable content, you are welcome to, I just want to save teachers from buying books they will be unable to use in their classroom. Anyway, here is the list:
Baum, L. F. and M. Cavallero (2005). Wizard of Oz. New York, Penguin.
Good adaptation of the book. Cavallero is the same artist as on the Jane Yolen Foiled books.
Bruchac, Joseph; Davis, Will (2009)

Dawn Land New York:

First Second.
Native American legend story.

Very well done.

Excellent art.

Very interesting story.

Some vulgar language and implied adult situations.
Castellucci, C. and J. Rugg (2007). The Plain Janes. New York, Minx.
Several girls named Jane use art to wake up their sleepy town.

Reverberations of 9-11.
Chadwick, Paul.

(2005) Concrete: Depths.

Milwaukie,OR: Dark Horse.

This book is about a guy who ends up in a body that is composed of rock and then he has to figure out what to do with himself.

It sounds lame, but it is a remarkably interesting series of stories.

I liked this one a lot.

There is one scene with nudity that may make this particular volume problematic for high school.
Doyle, Sir Arthur Conan; Culbard, I.N.J.; Edginton, Ian (2009)

The Hound of the Baskervilles London:

Self Made Hero Publishing

Very nice adaptation of the original story.

Very faithful to the original text. There is a new one out now: A Study in Scarlet.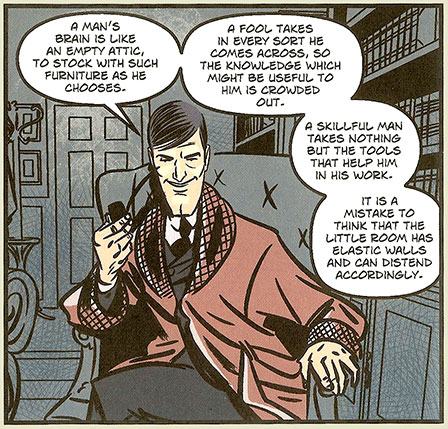 Eicher, Glenn; Bertozzi, Nick.

(2009)

Stuffed.

New York:

First Second.

Tim inherits his father's curio museum, and finds that, among the artifacts is a stuffed African warrior.

He, and eventually his brother Free, work to return the statue to its native land.

Thematically there is a lot here about brother to brother relationships, father to son relationships, racial relationships, and the question of doing the right thing at the cost of all relationships.
Eisner, W. (2000). A Contract with God. New York, DC Comics. Excellent shorts stories that deal with New York and Judaism. One particular story is problematic and changeable.
Giardino, V. (1994). A Jew in Communist Prague: Loss of Innocence. Nantier Beall Minoustchine, New York.
Good piece -- nicely portrays life of a marginalized family under totalitarian rule.

Coming of age/sex scene might make it difficult to use even with high school students.
Gaiman, Neil

(1991) Sandman:

Preludes and Nocturnes New York:

DC.

Very interesting fantasy novel.

Humans imprison the embodiment of Dream through sorcery.

Chaos ensues.

Dream eventually escapes and must reclaim three talismans of power.

Along the way, some interesting portrayals of the best and worst of humanity.

Very influential graphic novel.

Some vulgarity, some nudity, some occult references.
Geary, Rick; Shaw, Stanley W.; Ryan, Johnny;

Weber, Lisa K.

(2005)

Graphic Classics:

O. Henry

Mount Horeb, Wisconsin:

Eureka Productions.

Adaptations of O.Henry Short Stories including The Ransom of Red Chief, Gift of the Magi, The Cisco Kid, and others.

Many different adapters, so the styles and the quality of different adatations vary a lot – but bottom line, it was a pretty good book.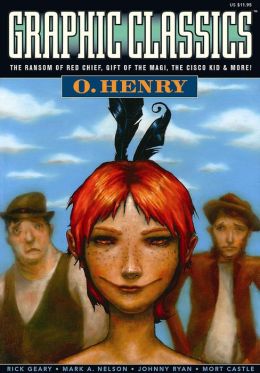 Hale, S., D. Hale, et al. (2008). Rapunzel's Revenge. New York, Bloomsbury
.
Excellent book with intertextual references to classic literature.

Themes of self-reliance, independence, friendship, justice, and exploitation.

Excellent for fifth or sixth grade.
Hale, S; D, Hale, et al.

(2010) Calamity Jack New York:

Bloomsbury

Even better than Repunzel's revenge.

Does a great job of establishing a whole world.
Hicks, Faith Erin.

(2012)

Friends with Boys

New York:

First Second.

Maggie has been homeschooled her whole life and now is starting high school.

She worries about finding friends and finding her way through the big building.

Fortunately, her oldest brother, a likable member of the theater group, is around, as are her twin brothers (though they are usually too busy fighting with each other to be of some use).

Maggie meets Lucy (a hyper, but likable kid) and her moody punk brother Alistaire and things seem to be going okay.

Maggie's only other problem is that she is haunted by a ghost.

Very good story with a lot about childhood (and a group of kids who are not into drugs, drinking, or hyper-sexuality.)

It is a good book.

Main themes are developing your own identity, defining friendship, and developing courage by standing up to what you fear (ghosts or bullies)
Hinds, Gareth (2010) The Odyssey Somerville, MA: Candlewick
A few years ago, Marvel comics came out with a graphic novel version of the Iliad. Then there was the graphic novel 300 about the Spartans holding the pass at Thermopylae. And I remember thinking when I first saw them how it made perfect sense for a comic version of these ancient Greek stories because they read like comic books anyway, with the gods and demigods as superheroes. In each of those cases I found though, that it didn't quite work. The Odyssey and the Iliad are not really comic book stories -- the fit isn't as perfect as I thought.
Then along came George O'Connor. His Olympians series showed that the stories of the Greek Gods could be done and done well. (If you haven't read them yet, do so).
I was so excited about O'Connor's work that I missed Gareth Hind's graphic novel version of the Odyssey that came out in 2010. It is brilliant. His artistic style is very different from O'Connor's stuff -- O'Connor is more confident and more vibrant -- Hinds seems muted and cautious by comparison -- but frankly, I don't care -- because Hinds nails The Odyssey perfectly. I'll include some images below. You can see what I mean.
But here is why I am excited -- this is The Odyssey. He captures it. First of all, he tells the story in the right order. His images help us picture the action, but for the first several pages, the text still carries the bulk of the meaning. By the end of the first chapter or so, you will be hooked. The blinding of the Cyclops, the sirens, the book of the dead, and best of all, Odysseus gets his revenge on those freeloading suitors. This is the kind of a graphic novels that will pique studnets' interest in reading the original.
I guess what I am trying to say is that I really liked it. Get hold of it and read it.
Homer; Thomas, Roy; Sepulveda, Miguel Angel (2008)

The Iliad

New York:

Marvel

Excellent rendition of the epic poem.

Emphasizes the theme of manipulation by the gods over the theme of petty jealousy among the Greeks.

Very nicely done!
Huizenga, Kevin, (2006) Curses.

Montreal:

Drawn and Quarterly

Amazing short stories dealing with hope despair, religion, morality, how to live, etc.

The story "28th Street is a kind of modern fable.

Quest story.

Excellent.

Maybe for use with upperclassmen.
Johnson, Mat, & Pleece, Warren (2008) Incognegro New York: DC.

Story of a black reporter who can pass for white and uses this to pose as a KKK guy and attends lynchings to cover them – gets names and stuff.

He has decided to retire, too many close calls, then he finds out that his brother has been arrested in the South.

He goes down there to try to solve the crime.
Kafka, F. and P. Kuper (2003). The Metamorphosis. New York, Three Rivers Press.
Very nicely done adaptation.

Good art (though somewhat presentationalist)

Black and white
Kubert, Joe. (2003) Yossel, April 19, 1943.

New York:

ibooks.

GN about a Jewish boy with an amazing drawing talent who is trying to survive the Nazi occupation.

He experiences life in a ghetto, death camp, and as part of the Jewish resistance.
Kuper, P. (1991). The Jungle (Adaptation of Upton Sinclair's novel). New York, Nantier, Beall, Minoustchine
.
Larsen, Hope (2010)

Mercury

New York: Atheneum

Tara's mother's house burned down, Tara is living with her Aunt and uncle while her mother works in Western Canada.

Josey is living on the Canadian frontier with her mother, father and sister when a stranger arrives and persuades her father to join him in developing a gold mine.

The way these two stories stitch together is excellent.

Good story.
Lat.

(1980)

Town Boy.

New York:

First Second.

Memoir of a child growing up in Malaysia.

Excellent.
Lee, Tony; Hart, Sam; Fujita, Artur (2009) Outlaw: The Legend of Robin Hood Somerville, MA: Candlewick

Excellent retelling of the Robin Hood story!
Lemire, J. (2007). Tales From the Farm. Atlanta, Top Shelf
.
Won an Alex award.

Kid mourns late mother -- doesn't understand dad, bonds with brain damaged former hockey player who may be his real dad -- also kid imagines alien invasion.

Hockey player plays along.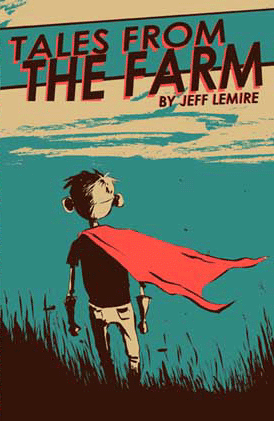 Lemire, J. (2007). Ghost Stories. Atlanta, Top Shelf.
Two brothers, both hockey players, torn apart by an affair between the unmarried one and the married one's wife.

Told by the unmarried one as a senile old man looking back on a fruitless life.
London, Jack: Kuper, Peter, Howarth, Matt; Geary, Rick, Emerson, Hunt.

(2003)

Graphic Classics;

Jack London.

Mount Horeb, WI: Eureka Productions.

Not the strongest art or storytelling in the world, but some of these might be good examples of how to translate classic literature to GNs.

Some stories have adultish material.
Melville, Herman; Sienkiewicz, Bill

(1990)

Moby Dick.

New York: Berkley.
Excellent adaptation (though greatly abridged)

Art is fabulous.
Modan, Rutu (2008)

Jamilti and other

stories.

Montreal:

Drawn and Quarterly.

Excellent and interesting short stories,

mostly they take place in modern-day Israel.

Very occasional nudity, but the figures are so small, it is not really titillating.
O'Connor, George (2010)

Athena:

Grey-eved Goddess.

New York:

First Second.

Excellent book.

The Fates narrate.

Focus is Athena, but that includes the story of her birth and the stories of Medusa, Perseus, and Arachne.
O'Connor, George (2012) Hades: God of the Dead.

New York:

First Second.

Excellent.

As usual, this is not really a book about Hades, but it is the story of Demeter and Persephone.

The art work is excellent and absolutely enhances the story.

Begins with a beautiful second person sequence of what it is like to die if you are Greek.
O'Connor, George

(2011)

Hera: The Goddess in her Glory

New York:

First Second.

Excellent look at the labors of Heracles from Hera's perspective.
O'Connor, George (2013) Poseidon: Earth Shaker

Nw York:

First Second.

First Person narration by Poseidon.

Includes parts of the Odyssey and the story of Theseus.
O'Connor, George

(2011)

Zues: King of the Gods

New York:

First Second.

Excellent look at the creation of the earth from Zues's perspective.
Pyle, Kevin C.

(2007)

Blindspot.

New York:

Henry Holt

Interesting piece about a kid who's war games with his friends are, to him, more real than the rest of his life.
Reed, G., F. Irving, et al. (2005). Frankenstein, The Graphic Novel. New York, Puffin
Satrapi, M. (2003). Persepolis: The Story of a Childhood. New York, Pantheon.
Satrapi, M. (2004). Persepolis 2:

The Story of a Return. New York, Pantheon.
Seagle, S. T. and T. Kristiansen (2004). It's a Bird. New York, DC.
Not really about Superman, but a memoir about the author's childhood struggle with his mother's fatal illness and the effect that has on his later life.
Shakespeare, W. and McDonald, John (2009) Romeo and Juliet: The Graphic Novel

Lichborough: Classical Comics.

Not a bad adaptation generally, and completely unabridged.

Traditional costumes and sets.

The word does not always suit the action.

This company also publishes a plain text version and an abridged version using the same art.
Shakespeare, W. & Vieceli (2007) Manga Shakespeare Hamlet.

London:

Self Made Hero Press.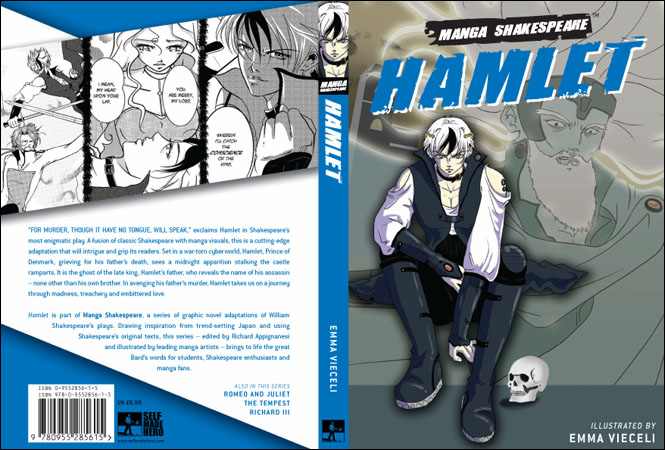 Shanower, E. (2004). Age of Bronze:

The Story of the Trojan War. Orange, California, Image Comics Inc.
Small, David.

(2009)

Stitches.

New York:

W.W. Norton.
In this memoir, David has to come to terms with having a lump in his neck, having two operations to have it removed, finding out that it is cancer, finding out that his radiologist father may have caused the cancer by treating David's respiratory problems with x-ray radiation when he was younger, discovering that the second operation has cut away half of his vocal cords, leaving him mostly mute, and finding out that his mother has a female lover (handled fairly sensitively – no nudity).

Not very hopeful, but an amazing piece all the same.
Spiegelman, A. (1986). Maus I. New York, Pantheon.
Spiegelman, A. (1986). Maus II, a Survivor's Tale. New York, Pantheon.
Talbot, B. (1995). The Tale of One Bad Rat. Milwaukie, Oregon, Dark Horse Books
.
Excellent.

Deals with sexual abuse.
Tamaki, Mariko (2009?)

Skim

Teenage goth rebellion, witchcraft, underage smoking, vulgar language, hinted lesbian relationship – BUT—Skim goes down a dark road and comes out stronger – rejects witchcraft.
Telgemeier, Raina (2010)

Smile.

New York:

Scholastic.

Raina is due to get braces when she falls and knocks out to of her teeth.

This GN, though, is less about her orthodontic adventures and more about how she matures from middle school into high school and eventually ditches her friends (who seem to ridicule her a lot) for a new set of friends she can feel more comfortable around.
Thompson, C. (2004). Blankets. Marietta, GA Top Shelf Productions.
Good story – deals with conflict between fundamentalist religion and artistic expression.

Some nudity.
Vance, Jack; Ibrahim, Humayoun (text 1961, adaptation 2012)

The Moon Moth.

New York:

First Second.

Excellent adaptation of a difficult but excellent science fiction story.

It is a ind of detective story set on a planet of self-interested beings who communicate only through music.
Vaugan, Brian K. and Henrichon, N. (2006) Pride of Baghdad, New York, DC
During the bombing of Iraq by American forces, four lions escape from the Baghdad Zoo.

Has a lot to say about the randomness and senselessness of war.

Maybe pair with All Quiet on the Western Front
Yang, G. L. (2006). American Born Chinese. New York, First Second.

Excellent.

Main theme is identity in terms of race and culture.
Yang, G. L.

(2010)

Animal Crackers.

San Jose, California:

SLG Publishing.

Excellent funny book – deals with bullying, identity in terms of religion, and romance to boot.

Good stuff.
Yang, G. and D. Kim (2009). The Eternal Smile. New York, First Second.
A series of Short Stories -- recurring Themes include redemption, trust, fantasy, and the role of women.

Excellent.
Yang, Gene; Pham, Thien (2011) Level Up

New York:

First Second.

Excellent story.

Dennis tries to figure out his destiny as a gastroenterologist or a computer game tester.

Angels/pac man ghosts accompany him.

Satisfying ending.

Themes deal with identity in terms of work and calling.
Yang, Gene (2008) Prime Baby.

New York:

First Second.

What an excellent book.

Thaddeus becomes convinced that his sister is an alien being.

Turns out he is wrong, she is a gateway for alien beings to enter the Earth (she pukes up space slugs).

It isn't an invasion exactly, though, the aliens are missionaries of smiles and happy feelings.

Thaddeus tries to trick them into invading so that he can become the president of the world.

He manages to get the government to incarcerate his sister – then he starts to miss her.

Good good stuff.