Doxiadis, Apostolos; Papadimitriou, Christos H.; Papadatos, Alegos; DiDonna, Annie (2009)

Logicomix: An Epic Search for Truth.

New York: Bloomsbury – excellent story about the life of Bertrand Russell and his attempt to discover truth through mathematics, philosophy and physics.

( I know that doesn't sound so exciting, but it really is. This would be a good one for convincing students that math actually is pretty iinteresting -- once you get into it).

Good explanations of geometry, paradox, infinity, and the difference between computation and higher math – with a fair amount of secrecy, scandal, madness and mystery mixed in.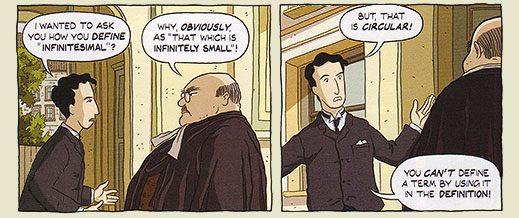 Colfer, Eoin, Donkin, Andrew; Rigano, Giovanni; & Lamanna, Paolo. (2009) Artemis Fowl:

The Arctic Incident: The Graphic Novel.

London: Penguin
Artemis Fowl, kid super criminal mastermind once again teams up with Captain Holley Short, a fairy who is part of the Lower Elements Police RECON unit (that's L.E.P.Recon -- get it?), the mountainous bodyguard Butler, Foley the centaur-inventor and the rest. Though it lacks the cryptography elements of the text version, it still has Artemis's use of logic.

Fun read.
Ottaviani, J. and L. Purvis (2004). Suspended in language: Niels Bohr's life, discoveries, and the century he shaped. Ann Arbor, GT Labs.
Holy cow!

This is the best science and math GNs I have yet encountered.

Perfect for a high school physics class.

Explains scientific theories and how they came to be in the context of Bohr's life.

This GN totally rocks -- especially the barometer story told the end. Nerdvana!
Ottaviani, Jim; Cannon, Zander; Cannon:

Kevin.

(2009) T-Minus:

The Race to the Moon

New York:

Aladdin. Back int eh 1950s, 60s, and 70's, when slide rules walked the earth, mathematicians calculated pretty much every aspect of the space program by hand. There were the days when the engineers were the heroes, and their calculations were all that stood between the astronauts and firey death. This is the good stuff.
.
Got any other suggestions? Feel free to leave titles in the comments section below.