Henkes, Kevin (1992) Words of Stone

New York:

Puffin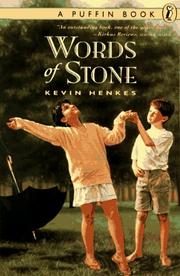 Who knew? Before Kevin Henkes wrote picture books like Crysanthemum and Lily's Plastic Purse and Kitten's First Moon he wrote adolescent novels. As part of my attempt to read all the Newbery Books, I stumbled upon Words of Stone which, although it has some humor in it and a few lighthearted moments is way more serious than we are used to from Henkes. The main character, a 10 year old boy named Blaze seems very troubled (maybe because he was burned badly as when he was younger, maybe because his mother is gone, and maybe because he seems to have some obsessive-compulsive tendencies.) Anyway, a girl named Joselle (who has her own struggles) moves in nearby and makes his life wonderful and horrible at the same time. This is a book about lying and where it gets you, but it is also a book about untangling problems and finding hope.
This would be a good one for fifth and sixth grade up through middle school. And actually, I could see some high school and college kids enjoy reading it too. I am not sure it would be a good read aloud (though actually it might) but it would be a good book for kids to talk about.
You won't find this one in a new bookstore -- though you might get lucky and discover a copy in a used book store or a thrift shop. Amazon currently has 73 copies available. And of course, because Librarians love the Newbery, there is probably a copy in your local library.