Top 20 Good Classroom Library/Literature Light

(Middle School and High School) Graphic Novels
Here are some graphic novels (my original list had about fifty GNs on it, but I culled it down to just the stronger ones.) These may not have strong enough themes to sustain classroom study, but would be good books to have available to get kids interested in reading. As always, you may want to read these for yourself before buying them -- my tastes may not equal yours, and your community may have different standards of what is acceptable than mine does. They are good books, though. Check them out.
1.
Avi, Floca,B. (1993) City of Light, City of Dark, Scholastic
Good story – some thematic development (cross generational friendship, optimism vs pessimism).

Mostly just fun, though. The plot is a kind of good kids against evil quest sort of thing. Black and white. Middle school and high school
2.
Brosgol, Vera.

(2011)

Anya's Ghost

New York:

First Second.
Anya is a fairly recent immigrant from Russia who stumbles into a well in a field and meets a ghost.

At first the ghost seems like a perfect best friend.

Then Anya begins to suspect the ghost is not telling her the truth about its origins.

Lots of underage smoking and some vulgarity. Characters are middle- schoolish in age.
3.
Busiek, K. and C. Pacheco (2004). Arrowsmith: So Smart in their Fine Uniforms. La Jolla, Wildstorm
.
Alternate reality world war 1 -- magic works, mythical beasts exist, and Fletcher Arrowsmith, who has grown up in the new world, joins the Overseas Air Corps.

With his little dragon, he fights for the allies.

Excellent story.

Themes:

Coming of age, Dulce et decorum est, etc. Great for middle and high school. Kids who like reading fantasy will love this one.
4.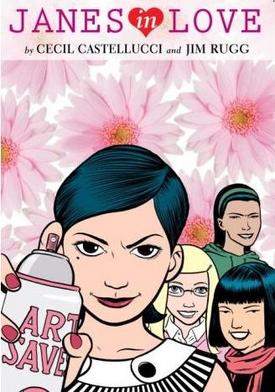 Castellucci, C. and J. Rugg (2008). Janes in Love. New York, Minx (DC).
Middle School and high school girls.

Ni

ce story. Overall messages: Art rules!

Be yourself!
5.
D'Errico, Camilla 2008

Burn

New York:

Simon and Shuster.
I don't usually review manga -- I feel like there is far more of it than I could ever keep up with. And this one certainly isn't pure manga. It is interesting stuff, though, and might be a nice bridge for manga readers to explore conventional graphic novels. The drawings are sketchy and this is one in a series, so I can't say it was a complete story, but it was pretty compelling about a kid who gets connected to a evil war robot and has to work out one body with two minds, two sets of objectives, and two moral codes.

Interesting stuff.

The art could be stronger, though.
6.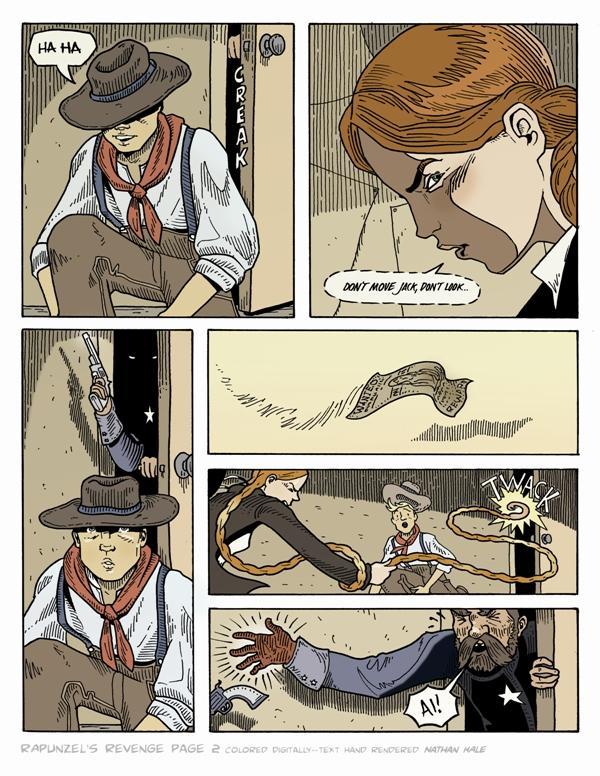 Hale, S; D, Hale, et al. (2008) Rapunzel's Revenge New York: Bloomsbury. This is more for middle schoolers, but I know one high school student who still rereads this regularly. This is a wild west retelling of the Rapunzel myth, but without the prince. Rapunzel saves herself and the kingdom along with it. She comes across as a sort of female Indiana Jones without the macho. Good stuff.
7.
Hale, S; D, Hale, et al.

(2010) Calamity Jack New York:

Bloomsbury

Even better than Repunzel's revenge.

Does a great job of establishing a whole world.
8.
Kesel, B., S. McNiven, et al. (2002). Meridian: Going to Ground. Oldsmar, Florida, CrossGen.
Excellent series – female protagonist.

Fantasy world – revolution, morality, etc.

Good stuff.
9.
Kesel, B. and J. Middleton (2003). Meridian:

Flying Solo. Oldsmar, Florida, CrossGeneratiion Comics.
Good fantasy story -- strong female protagonist.

Nice detailed world.

Good stuff.
10.
Kibuishi, Kazu

(2008) Amulet:

The Stonekeeper

New York:

Graphix.
Good adventure story.

So the short version of book one is that Emily has inherited this magic stone, and she and her brother Navin have been transported, along with their sick mother, to a fantasy land where their companions, including a couple of robots and a pink rabbit are helping them in hopes that Emily, as stone keeper, will save their world. Also, they live in a giant walking house.

Nice drawing.

Persistent theme seems to be the difficulty of determining who to trust.
11.
Kibuishi, Kazu (2009)

Amulet Book 2: The Stonekeeper's Curse.

New York: Graphix.
In volume two, they have to escape a pack of evil elves, aid some powerful but benevolent trees, rescue their mom, defeat the elf king, and master the magic stone without letting it take over.
I know that sounds silly.
But here is the thing, a graphic novel is a combination of words and pictures, and these pictures are awesome. Fourth graders through eighth graders are going to love this book. It is fun and funny and sometimes gripping.
This is not the sort of graphic novel with themes in it that will stretch your consciousness or change your life. But it isn't lightweight either. It treats the reader as if he or she is intelligent and perceptive. Good stuff.
12.
Kim, Susan; Klavan, Lawence; Hicks. Faith Erin (2010) Brain camp.

New York:

First Second.

Kind of a weird little story.

Two disaffected kids get sent to a camp that gets results.

Through a series of coincidences, they don't eat the food and soon realize that everyone else in the camp is turning into a passive, hyper-intelligent zombie.

Then they discover that the other kids are vomiting up dead baby birds.

After some close calls, they avoid being transformed and save the camp from evil (alien?) birds.
13.
Larsen, Hope.

(2008) Chiggers New York:

Atheneum .

Nice exploration of middle school relationships at camp – bit of an emotional rollercoaster.
14.
Pratchett, T., S. Ross, et al. (2008). The Discworld Graphic Novels. New York, HarperCollins
.
High school and up.

Fantasy

Good stuff.
15.
Reed, M.K.; Hill, Jonathan.

(2011) Americus.

New York:

First Second.

Two eighth graders, fans of a fantasy series, find their friendship torn asunder when one mother

reads part of the series and goes on a fundamentalist crusade to purge the library of it.

Unreasonably unsympathetic portrayal of fundamentalist Christians – but an exciting fight and satisfying that the forces of good (the librarian and the boys) win in the end.
16.
Renier, A. (2005). Spiral Bound (Top Secret Summer). Marietta, GA, Top Shelf.
Anthropomorphic animal children discover that the monster in the pond is mechanical -- restore an exile to the community, and cavort through an underground newspaper/art complex.

Their art teacher is a whale in a kind of motorized fishbowl.

Great fun.

Ideal for middle school.
17.
Robinson, J., P. Smith, et al. (2003). Leave it to Chance:

Monster Madness and Other Stories. Orange, California, Image Comics. Ch
ance rocks!

Strong female protagonist.

No bad words.

Some scary monsters, but little graphic violence.

Some mention of witchcraft -- but no how to.
18.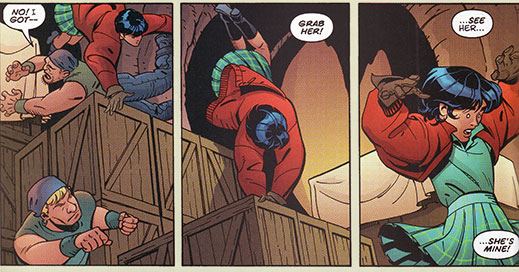 Robinson, J., P. Smith, et al. (2002). Leave it to Chance: Trick or Treat and Other Stories. Orange, California, Image.
19.
Taylor, Sarah Stewart; Towle, Ben (2010) Amelia Earhart:

This Broad ocean.

New York:

Hyperion.

Sort of a fiction piece about a girl reporter who lives on an island in Newfoundland which is the starting point for Earhart's attempt to fly across the Atlantic.

A lot of biographical data here, and extensive end-notes for at least some sourcing It looks sort of like a picture book -- but it isn't
20.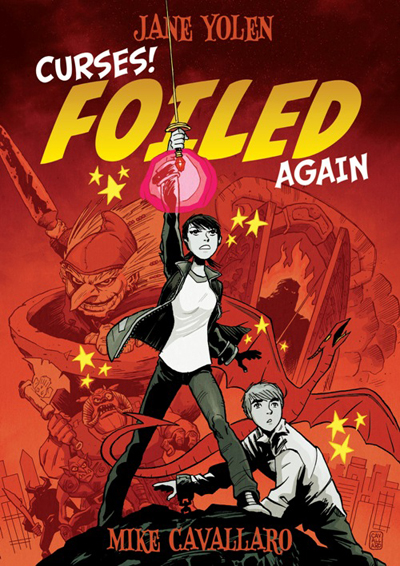 Yolen, Jane.
(2013)
Curses Foiled Again
New York:
First Second.
It completes the story begun in
Foiled.
Aliera Carstairs is a high school student who works hard, likes to read, and is passionate about fencing (sword fighting, not chain link and picket fences). She has been taking lesson for years and is very good with a foil. In the first book her mom was at a garage sale and bought her a fencing foil with a red jewel at the end of the hilt. It turned out that the foil was enchanted and allowed her to see the faerie world all around her. This led to some odd and otherworldly experiences and the discovery that her lab partner was a troll. Now in the second book, we are drawn into the real conflict -- a save-the-world-from-utter-destruction kind of thing with plenty of close calls, plot twists, narrow escapes, and surprising revelations. Good stuff. Mike Cavallaro's illustrations are exciting and engaging. The use of color to indicate the separation between the mundane wold and the faerie one is well handled. The facial expressions are particularly well-rendered.