This year Marissa Moss is Trinity's Young Authors Festival featured presenter. I am excited about this because I really like her work.
Marissa Moss is the master of using the journal form to tell a story. The journals are typically handwritten and include drawings, and sometimes objects to help the reader understand the historical period (or, in the case of the Amelia Notebooks, complicated family situations) being talked about.
Here are six of her books you'll want to check out. All of them are ideal for third grade through middle school. :
Moss, Marissa (2000)
Hanna's Journal: The Story of an Immigrant Girl.
San Diego: Harcourt.
Opening lines: "September 27, 1901. Today is my birthday. I am now ten years old and Papashka gave me this journal to write in. All this paper just for me! He knows I want to learn, so now even though I cannot go to school like my brothers, I can practice sums and copy lessons here."
Short Summary: Hannah is the middle child of a Jewish family of eight living in Lithuania. After a pogrom, Hannah has a chance to go wither cousin Esther to America, where it is hoped, she will be able to earn enough to pay for the others' passages over. Esther is horribly seasick and anxious about the whole trip, and so Hannah takes on the task of leading them, though Hannah is younger. With the help of her new friend Samuel, they survive the Atlantic crossing by steamship, make it through Ellis Island, and eventually find their relatives.
Moss, Marissa (1999)
Emma's Journal: The Story of a Colonial Girl.
New York: Scholastic.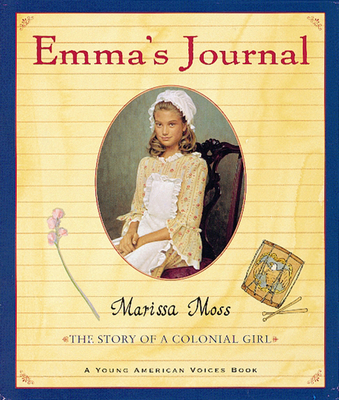 Opening lines: "July 18, 1774. The house is hush and still. I should be asleep, like everyone else, but I am too excited, so I have taken my journal tot he windowsill and write by the light of the moon. Tomorrow I leave our farm in Menetomy and go to Boston, such a big bustling city."
Short Summary: On the eve of the American Revolution, ten-year-old Emma Millar is sent to live with her Aunt Harmony and her boarder, Thankful. Emma ends up becoming sympathetic to the revolution, then eventually serves as a kind of spy, passing important information to the Colonial Army. Along the way she meets a boy named Amos who, as it turns out, is also helping the Colonial Army, loses some people close to her, survives the lower floor of the house being occupied by a British General, and even sees General Washington. In the end she is reunited in . She also sees George Washington.
Moss, Marissa (1998)
Rachel's Journal: The Story of a Pioneer Girl.
San Diego: Harcourt.
Opening lines: "March 10, 1850 I have never had my own book to write in, but I have one now, and my own pen too. Grandfather gave them to me. He says it is my task to chronicle our long journey and write letters back to the States. Mother and Pa will be busy driving the teams of our two wagons and Ben and Will have to tend the stock. That leaves me with the chore of writing."
Short Summary: Rachel is travelling with her family from their home in Illinois, west to Sacramento, California. They are traveling with four other families and along the way they will have to deal with flooded river, their own fear of Native-Americans, lack of drinkable water, dying animals, steep cliffs, and more. As with the other books, Moss's engaging writing style works well with the sketches and images that accompany each journal entry.
Moss, Marissa (1996)
Amelia Writes Again.
Middleton, WI: The Pleasant Company.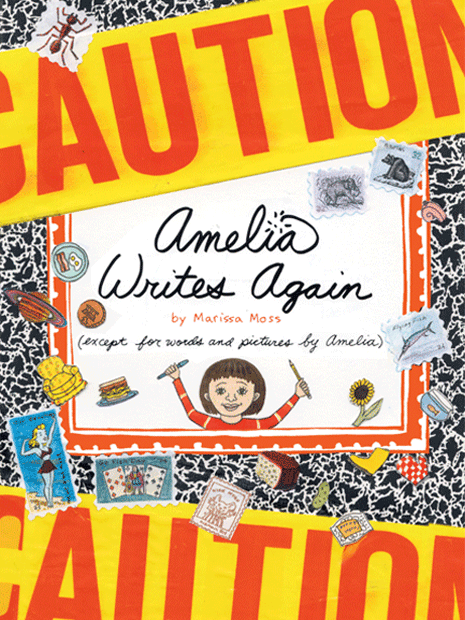 Opening lines: "This is my beautiful new blank notebook, waiting for me to fill it with words and drawings. But I feel as blank and empty as these pages."
Short Summary: Amelia's annoying older sister Cleo has given her a new notebook, provided Amelia will writ some nice things about her in it. Amelia's best friend wants to know hat she writes in the notebook. Then an arsonist burns part of their school down and Amelia thinks of an idea to help people feel better again. Okay, so the plot is a little disjointed, but the way Moss gives us the energetic authentic voice of a 10-year old more than makes up for it. The pictures are delightful.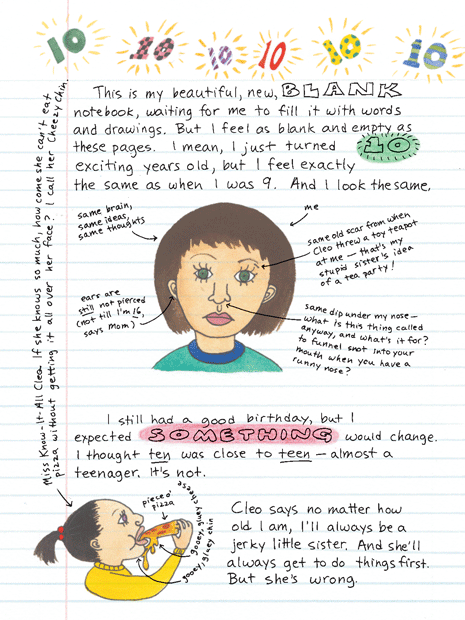 Moss, Marissa (1997)
Amelia Hits the Road
New York: Scholastic
Opening Lines: "This is my new travel notebook. Mom bought it for me so I wouldn't be bored on the long driving part of this trip. She said if I am busy writing, I won't be busy fighting with Cleo. I don't fight with Cleo. She fights with me."
Short Summary: Nadia is taking a trip with her Mom and her sister Cleo to Death Valley, Yosemite, and to visit Amelia's friend Nadia who Amelia hasn't seen since she moved. Along the way Amelia and Cleo have their ups (dancing to the jukebox in an old time diner) and downs (Cleo gets carsick a lot). As this series goes on, there are more and more funny bits that tie in to previous books.
Moss, Marissa (2000)
Amelia's Family Ties
Middleton, WI: The Pleasant Company.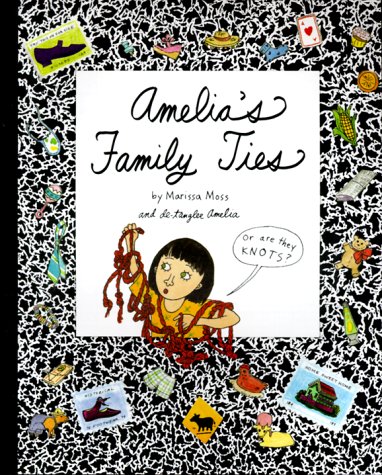 Opening lines: "I love getting mail, even junk mail, but when I saw this letter I was almost afraid to open it. I could tell from the return address that it as from my dad. My dad -- its weird to even say that. I don't remember him at all."
Summary: Amelia takes a trip to meet her Dad, who she has never known. She takes her first airplane flight. She meets her dad and then his new wife Clara. When Clara reads Amelia's notebook, the whole situation explodes. This is an amazing book for looking at some of the emotions and reactions kids can have when they are stuck between two parents/families. Good stuff.