I tend to read picture books while eating lunch in my office. When I am done I put them in a pike and eventually that pile grows tot he point where I am fearful of a huge bookslide that will seep everything from my desk, cascade over me as I work, and trap me in the space under the bookcase where I would have no choice but to read myself out.
That kind of happened this morning. And when I restored order I decided it was time to get some of these things reviewed and then safely stored where they can no longer threaten the lives of any students who wander into my office unaware of the danger they are courting. And so, here goes:
Willems, Mo. (2012)
Goldilocks and the Three Dinosaurs.
New York: HarperCollins.
Five reasons to buy this book:
1. It is by Mo Willems.
2. The endpaper has alternate ideas scratched out like: Goldilocks and the Three Robots; Goldilocks and the Three Naked Mole Rats; and Goldilocks and the Three Meercats.
3. This is the opening sentence "Once upon a time, there were three dinosaurs: Papa Dinosaur, Mama Dinosaur, and some other Dinosaur who happened to be visiting from Norway."
4. It ends with two morals -- one for Goldilocks, and one for the dinosaurs. Both are hilarious.
5. Did I mention it is by Mo Willems?
Allen, Kathryn Madeline; Futran, Eric (ill.) (2012)
A Kiss Means I Love You.
Chicago: Albert Whitman
This book features huge close photographs of kids smiling, crying, waving, tugging, laughing, crying, pouting, cheering, shushing, and so on. Each page has a simple bit of text: "A yawn means I'm sleepy." This would be an excellent book for PreK 3s and $s through kindergarten to use to learn about how to read facial expressions.
Bernasconi, Pablo (2005)
Captain Arsenio: Inventions and misadventures in flight.
Boston: Houghlon Mifflin.
Okay, maybe it is my quirky sense of humor, but I LOVED this book. This illustrations are wonderful and the text is hilarious. So Captain Arsenio (former cheese master, blacksmith, scuba diver, and ship captain with no knowledge of physics and mechanics) gets together what the book describes as "useless materials" and decides to build a flying machine. Each attempt includes a narrative from an overall historian-type narrator, a quote from Captain Arsenio (which usually ends with "It cannot fail!") and a flight diary that includes a diagram of how high he flew and for how long, and his overly optimistic thoughts through to the moment of impact. The vocabulary may need some explanation for younger readers (typical sentence: "As improbable as it appears, this diary shows us that the Motocanary did fly for a few feet before crashing into a tree. Maybe the failure is due to Captain Arsenio's misplaced trust in the unreliable canaries.") Good stuff!
Singer, Marilyn; Cairns, Julia (ill.) (2011)
A Full Moon is Rising.
New York: Lee and Low.
This is a beautifully illustrated book of poems about the moon. Each poem represents the point of view of someone different in the world, from a girl in New York City to a man and his daughters watching the moon from their boat in the Bay or Fundy, to a family celebrating Sukkot in Israel. Each poem presents the moon I a new light. Beautiful poems and illustration. Might be a good one for reading examples to first or second graders, then suggesting they write their own poems.
Kimura, Ken; Murakami, Yasinari (2003)
999 Tadpoles
. New York: NorthSouth.
This is your basic frogs-have-tadpoles-which-then-outgrow-the-pond-and-leave-and-save-their-parents-from-a-hungry-hawk-story. It is kind of fun, though (in a OCD sort of way) to count the tadpoles and later frogs. No deep profundity in this one, but, as I said, it is kind of fun.
Someone recommended to me the Austrailian picture book author Christobel Mattingley. I have looked at three of his books and can confidently say that they are entertaining and interesting to look at. I can also say that they all appear to be written in English, yet have a high proportion of slang that I cannot begin to guess at the meaning of: "fossick"? "swaggie"? "plaits"? One of the coolest things about reading picture books from another country, though, is to see how they are different from so many of our picture books. So here is what I read:
Mattingley, Christobel; Lacis, Astra (il.) (1984)
The Angel with a Mouth-Organ
. New York: Holiday House.
In this story within a story, a mother tells her kids about when she was young and the war came and her father had to leave the family for a while and how the family endured hardships and hunger and sickness and finally reunited with her father (though he had lost his arm). Though the story is very much uplifting in the end, it struck me how rare it is to encounter a serious and tragic picture book in America. It is a great story, but parents and teachers alike might feel a little strange reading it to kids.
Mattingley, Christobel; Mahony, Will (ill.) (1975)
The Great Ballagundi Damper Bake
London: Angus and Robertson.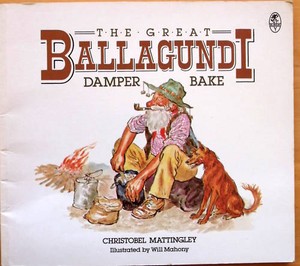 I felt like an alien with a broken translation device reading this book. It made sense for a while, then I would lose the English for a while, then it would come back. As near as I can figure, the town of Ballagundi, strapped for cash, gets this idea to hold a huge contest for people who are good at baking damper (which looks kind of like it might be sourdough bread.) Anyway, this old guy comes in from the outback and bakes an amazing damper, but because he isn't using flour from the town's mill, he is disqualified. Later they decide to use him as a spokesman for the town, so he gets his winnings after all. Nice enough story and fun to puzzle through the slang. Not much going on thematically, though.
Mattingley, Christobel; Mullins, Patricia (ill.) (1981)
Rummage.
London: Angus and Robertson.
The man pictured on the cover is a scrappy independent junk dealer. The owners of the stands next to him, think he is bringing down the value of the area, so they get him a hair cut and a fancy suit and a spiffy new stall, and then no one shows up to buy his stuff. Eventually he grows out his hair and puts on his old clothes and starts selling junk again and his customers come back. Not sure what exactly the point of this was -- it is good to be a little unkempt? Nice story though.
Mattingley, Christobel; Yamaguchi, Marianne (ill.) (1985)
The Miracle Tree
San Diego: Harcourt Brace Jovanovich
This is an incredibly powerful story of a woman separated from her husband and mother when the atomic bomb dropped on Nagasaki. Without knowing each other, all three of them interact with a tiny sprout of a tree growing up through the wreckage. The story is remarkably heartwarming. Parents who do not want their child to know there are such things as atomic bombs or wars or sickness or separation might want to skip this one -- but if you want your child to understand how hope can shine through the darkest times of our broken world will definitely want to get hold of it. I am quite certain it is out of print, but many libraries still have it and I have seen it on the ABE.com website. Worth the hunt.