Moss, Marrisa (2001)
Brave Harriet: The First Woman to Fly the English Channel
Orlando: Harcourt.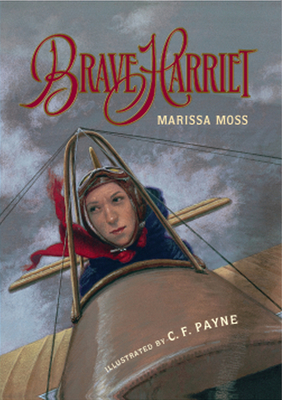 First Lines: It's a strange thing to see an aeroplane fly. The thing is so gawky and bumbling on the ground, so spindly and flimsy-looking, but then, once in the air, it soars with the grace and beauty of a hawk, strong enough to lift a person high above the trees and into the clouds."
Why have I never heard the story of Harriet Quimby? Harriet was the first woman to fly solo across the English Channel. She did so in 1912, when airplane construction probably had more in common with how kites are made than with the way planes are manufactured today. The prevailing wisdom at the time was that the flight was too difficult and arduous for a woman to attempt. Her well-meaning friend, Gustav Hamel (who had flown the channel himself) proposed that he dress as Harriet and make the voyage safely so that Harriet could claim the credit.
Marissa Moss's brilliant picture book tells this story, but also illustrates (through C.F. Payne's excellent illustrations) how what Harriet loved above all else was the joy of flying. Like Moss's other excellent non-fiction books, she gives an accurate account, but tells it in a way that the gripping story comes alive.
There is nothing in this book that would cause it to be challenged (unless soemone objects to telling the history of women as well as men). Although it would be a reasonable read-aloud for kindergarten and first grade, second graders and up would get the most out of it. (Actually, as i was reading it I wished I had it when I taught high schoolers. This is the sort of book that would make students want to look up more information. It is certainly worth picking up for your classroom.