Lewis, John; Aydin. Andrew; Powell, Nate (2013)
March Book 1
Marietta, Georgia: Top Shelf
Lewis, John; Aydin. Andrew; Powell, Nate (2015)
March Book 2
Marietta, Georgia: Top Shelf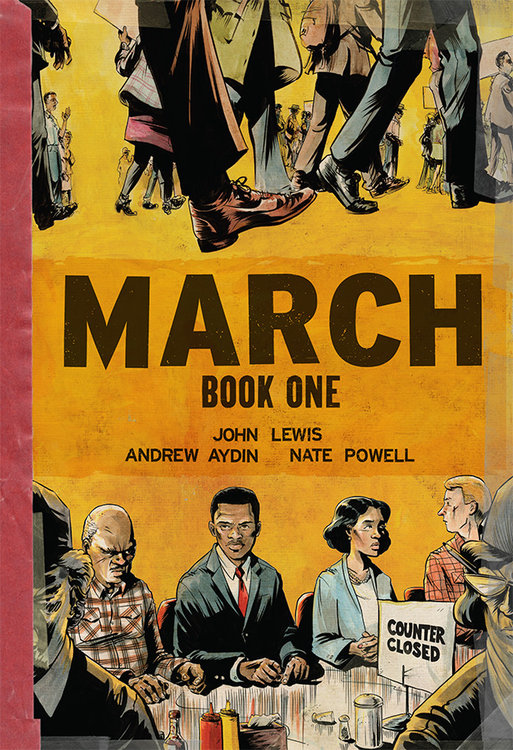 Opening lines: "John? Can you swim?"
"No."
"Well, neither can I -- but we might have to."
These lines, spoken by John Lewis and his friend Hosea as they march across the Edmund Pettus Bridge in the front of a line of protesters, toward police officers armed with tear gas is the beginning of the two-book graphic novel series,
March.
It is an autobiography of congressman John Lewis and his part in the civil rights movement. Although the opening scene is dramatic, the real strength of the book comes in the smaller moments. John Lewis was a young college-aged man during the beginning of the civil rights movement. He took part in a lot of actions that never made the news -- sit-ins (in which civil rights protesters would enter and sit at the lunch counter or a restaurant or store that posted that they would not serve blacks) and smaller protests. This book brings out those smaller moments, difficult decisions, one-to-one interactions between activists and store owners. Those are the moments that seem the most powerful to me.
The first book has a framing story in which Congressman Lewis is spending some time explaining the movement to two young boys (and their mother) before the Obama Inauguration. Even this framing story highlights the smaller personal moments behind historical events.
Like many autobiographies, there are movements when the reader wonders how the memory of the moment might have changed over time -- but most of the story seems like a credible account. Artist Nate Powell does a fantastic job of capturing both the history and the personality of each moment he depicts. The creators seem to have deliberately aimed the book at a very broad audience in terms of age, prior knowledge about the civil rights movement, and even reading comprehension level. I am convinced a strong fourth grade reader could get through this material, enjoy it, and understand pretty much all of it. At the same time, there is enough solid material here that reading this book graphic novel would be appropriate in a high school or college class as well.
There is a scene in the story where John Lewis and others are going through desensitation training to prepare them for the abuse they can expect during the sit-ins. During that scene, civil rights activists pretending to be anti-integration people, scream the N-word at those pretending to be civil rights protesters. It is a short scene, and the word is clearly condemned, but some parents may not want their children to even be exposed to that word.
These are both excellent books. You and your students need to buy and read them as soon as you can.