Bjork, Christina and Anderson, Lena (2005)
Linnea in Monet's Garden.
Stockholm: R and S Books.
A little girl named Lennea gets to go to Paris with her elderly friend Mr. Bloom and, both on the way and when she is actually visiting Monet's estate, learns a great deal about the life and art of the famous painter.
The illustrations combine photographs with painting in a way that is engaging and enlightening. The story is interesting and enjoyable to read (though my adult self was wondering why Lennea's parents would let her go to Paris with an elderly friend -- seems a little creepy to me) I think this book will work best for 2nd through 4th grade -- though teachers and parents may want to know that although the book handles it sensitively, the book does not shy away from Monet's rather odd domestic situation. The book also does a nice job of explaining what impressionism is, at a level where students can easily comprehend.
And because the whole thing is a story of Lennea's journey, it is a remarkably readable introduction to Monet
Barsony, Piotr (2012)
The Stories of the Mona Lisa
.
New York: Sky Pony Press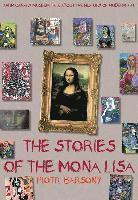 Barsony takes us on an interesting journey through some really interesting modern and contemporary artists, by showing how each of them might have rendered the Mona Lisa if they had painted it. We learn about impressionism, cubism, expressionism, minimalism, and surrealism -- and see how the Mona Lisa might have been painted by Van Gogh, Duchamp, Monet, Kandinski, Cezanne, Dali, Worhal, Picasso, Pollack, Lichtenstein, and others. The narrative offers clear explanations of what each artist was seeking to do.
In fact, I really enjoyed almost every part of this book, except for one. I suppose I cannot blame Barsony for including himself as one of the artists, and perhaps his name is a household word in lots of households other than mine, but it seemed to me that his Mona Lisa was more than a little self-aggrandizing.
I could see this being most useful for fifth or sixth grade on up through high school.