Jablonski, Carla; Purvis, Leland (2012) Victory:

Resistance Book 3

New York:

First Second.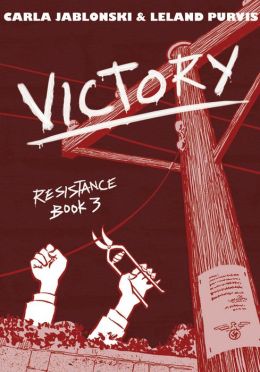 Paul Tessier and his sisters Sylvia and Marie are all involved in the resistance against the Nazis.

In this, the conclusion of a three book series, the Nazi invasion of France begins to falter, and the resistance presses its advantage.

Though they are just kids, the Tessiers act as couriers, intelligence gatherers, and at once point even shelter and hide an allied pilot who has been shot down.

It is exciting work and ignites their idealism, but it also proves to be far more serious than they had imagined.

They learn that friends and enemies are sometimes not as clear cut as they thought, and that loss comes with any war.
This would be a great book for history or English classes – although it would be important for young readers to learn to distinguish between the elements of fact and those of fiction. Worth getting all three books for a classroom library.