Shusterman, Neal (2016) Scythe. New York: Simon and Schuster.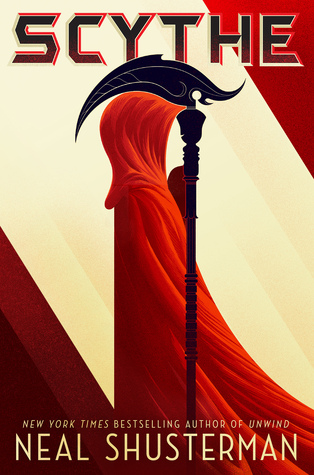 Opening Lines: "The Scythe arrived late on a cold November afternoon. Citra was at the dining room table, slaving over a particularly difficult algebra problem, shuffling variables, unable to solve for X or Y when this new and far more pernicious variable entered her life's equation."
Okay, I'll admit it. I was getting a little tired of dystopian novels. I mean, I liked Hunger games and Divergent and Shipbreaker but lately I have been reading dystopian stories where all the cats have died or the world has been buried in ice. And I keep thinking about how bad it is going to get before this fad burns itself out -- I am just waiting for the society that is ruled by the winners of a Scrabble tournament or a world where the economy depends upon ancient Twinkie sponge cakes dug up from an ancient landfill. Then along comes Neal Schusterman's Scythe to remind me that it isn't the genre so much as they writing that makes a book excellent. And this one is my favorite read of the year so far. You have to read this.
Citra and Rowan are both teenagers who are chosen to be apprenticed to a Scythe. In the world of this book, set in the relatively distant future, a world-wide computer net, combined with advances in nanotechnology, ensures that no one need die of natural causes. Since the transportation network is computer controlled as well, accidents are unheard of and practically speaking, people can live for as long as they want to. Of course, this has led to overpopulation. So a cadre of Scythes, each working independently, are responsible for choosing, on their own, without computer interference, a certain quota of people to kill each month. Although Scythes have some say in how they carry their duties out, they must grant a year's worth of immunity from scythes to any relatives of the person they kill.
It is unprecedented when Scythe Faraday takes two apprentices at once, and the assembly of Scythes decides that at the end of Citra and Rowan's apprenticeship, they will fight to the death to determine which one will become a Scythe. Faraday continues to train them both, but when Faraday dies in an apparent suicide (deciding not to be saved by the nanobots in his body) Citra and Rowan are each turned over to a different Scythe. Citra is apprenticed to Scythe Curie, who approaches her task with mercy and compassion; and Rowan is apprenticed to Scythe Goddard, who is known for orchestrated mass cullings which cause people to die in terror. And with this, Schusterman sets up a story that will lead Rowan and Citra to make choices that will affect the structure of their world. There are enough satisfying twists and turns to keep readers happy to the end.
There is enough going on here thematically that it would be an excellent book to consider using for high school English classes. Though there is certainly some violence here, it is not glorified but rather shown to be abhorrent. This would also be a fine book for a class or school library. I doubt it would be likely to be challenged.
If I haven't made it clear yet, you need to read this book as soon as you can.